Curtain walls



TRANSLUCENT FACADES:
Development of modern technologies greatly changed the facade's function. Nowadays facade of the building - it is an active module, that cooperates with external factors.
Facades today are developed in accordance with the requirements of modern architecture. They can regulate light penetration, heating and protect from noise.
Business and shopping centers, hospitals, hotels, dwelling houses, public buildings, industrial facilities – all the buildings types now are build from modern translucent facade systems. They perfectly proven in service, quality, ease of installation and maintenance support.
"Tehno Stroy" company is the official partner of "Reynaers Aluminium Ukraine" and offer aluminium translucent facades from leading european producer.

Also, we work with another european aluminium profile producers such as Ponzio, Aluprof (Poland), Etem (Greece), Schuco (Germany).

Translucent facade glazing has many advantages:

More than 300 colours of aluminium;
Mirrored and tinted glass;
Flat and voluminous forms;
Variety of geometric shapes;
High technologiness;
Any kind of facade's sizes and configurations;
Fire safety;
Strong defence from frost penetration;
Ability to create large structures without additional reinforcement;
No corrosion and deformation;
Modern, effective look, prestigeousness
Low thermal conductivity of glazed elements;

Possibility of using glazing elements with different characteristics;
Almost unlimited architectural and designer's decisions;
Steadiness to wind and thermal loadings;
High endurance;

Application of the glazed facade constructions is able to prolong the explotation of the old building for 40~60 years.

90% of translucent facades consist from glass. That's why the choise of the glass/glass pack for facade glazing is quite significant step in construction projecting, which needs separate consultation with "Tehno Stroy" specialists.

Energy-saving double-glazed windows serve as translucent filling of facade glazing:
double-glazed windows with energy saving,;
double-glazed windows with tempered glass;
double-glazed windows with tinted glass;
double-glazed wibdows with with safety glass triplex;
double-glazed windows with multifunctional glasses;
double-glazed windows with sun protection glasses;

"Tehno Stroy" company produce manufacture and installation of the following types of translucent facade glazing:
1) Standard system with a variety of designs for the visible aluminium covers.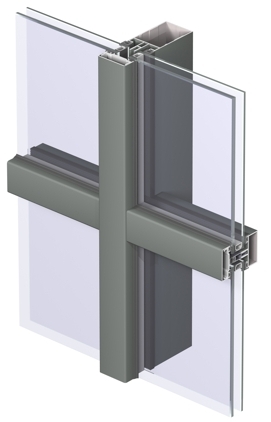 2) Semi-structural system with slim visible aluminium frame.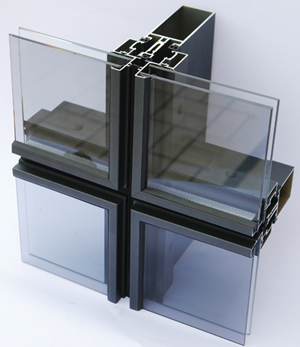 3) Structural glass system without visible aluminium frame and distance beetween glass panels.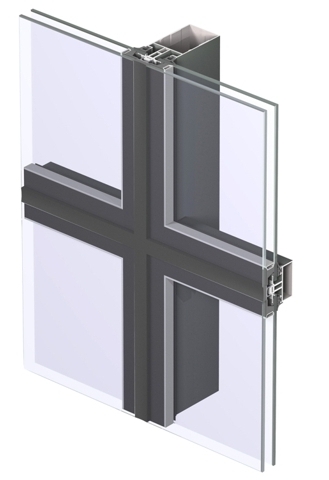 4) Element Facade system enables unitised facades to be completely pre-assembled in the workshop, ideal for high-rise buildings and freedom in architectural design.